Throughout the production process, we make sure the critical criteria are inspected and tested. These include dimension & standard specifications, surface tensions, Coefficient of Frictions (COF), resistance to impact and force, a detailed colour check with our high-end spectrodensitometer as well as tests on the films' and bags' tensile strength.
Tests are critical controls in our system, while we continue to invest in higher technology, we are also putting more effort into upgrading our testing facilities to accomodate far more complex film properties.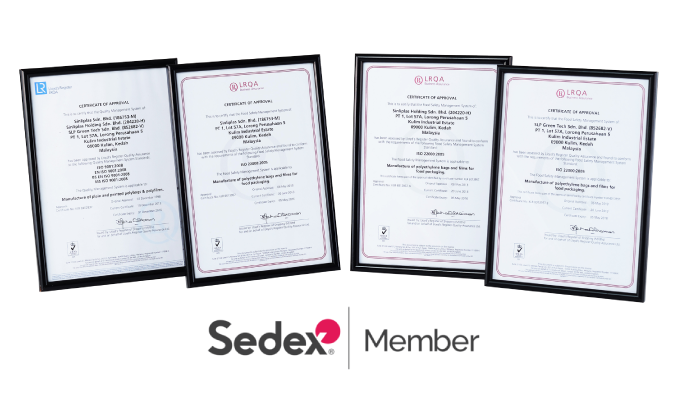 We are certified with ISO 9001, ISO 22000, BRC/IoP, SEDEX SMETA, and on going qualifications.

Physical & Cosmetic Tests
Thickness, dimension, film color, print, surface tension (dyne), ink viscosity, Pantone color, color intensity, Haze, Clarity.
Film Strength Tests
Tensile strength, Coefficient of friction, dart-impact, drop & jog tests.
Functional Tests
Seal strength, peel strength, handle strength, Barrier property, Moisture Vapor Transmission Rate, Hydrostatic test, Air Permeability test.
Others
Cleanliness, foreign matter, contamination, quantity, packing & loading condition, weight, colour fastness and peeling and other external tests.